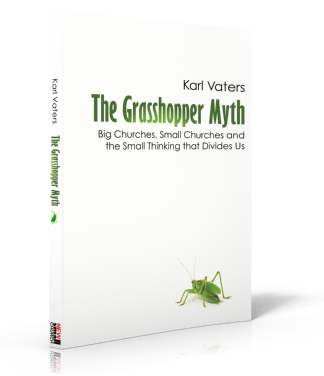 Welcome to Cornerstone's
The Grasshopper Myth
Page
The Grasshopper Myth
is a book written by our pastor, Karl Vaters, with the goal of encouraging, connecting and equipping innovative Small Church leaders. Pastor Karl calls it "the book I wish someone else had written for me when I started out in ministry."
It challenges some of the presuppositions many have held about church growth, church size and church success. It offers real-life examples of the struggles and joys that are unique to Small Churches, and it offers practical suggestions from many sources, including pastor Karl's 30+ years of pastoral ministry and his 20+ years at Cornerstone.
The Grasshopper Myth
has been read by church leaders in over 20 denominations and has been translated into Croatian for distribution throughout Eastern Europe. It's currently being translated into Spanish and German.
The book includes a 12-page Discussion Guide, making it perfect for book clubs, church staffs/boards, classrooms and more. It's been studied by dozens of church leadership teams and has been used as a university textbook.
These podcasts are talks that pastor Karl gave at Cornerstone, which follow the outline of the book.
For more info on this subject, including how to buy the book (in print or e-book) go to
www.NewSmallChurch.com